Single color EVA shoes /slipper /sole injection machine
Single color EVA shoes /slipper /sole injection machine
MR

China

within 20 days after recive deposit

30 sets/month
Advantages :
Single color EVA foam injection molding machine is equipped with two full-automatically efficient injectors, high-performance mould clamping system and PC control system. Using EVA as raw material, the injection moulding machine can produce soles , slippers , boots and various kinds of EVA foaming products.
MR-9106 EVA Injection Machine
Features:
1. Injection System
With a potentiometer, it can calculate material quantity accurately in PLC and PC systems.
Single color EVA foam injection molding machine applies linear rails and the motor drive which realizes immediate braking function to promise rapid movement of infectors. The location machine can measure the accurate location with rotary encoder.
2. Mould Closing System
One color EVA injection moulding machine works rapidly in mould-opening and mould-closing procedures and its mould closing system is assured to proceed in a hermetic unit. It is designed in low operation height to provide extra height for mould opening, making it flexible to use different moulds.
3. Controlling System
Single color EVA foam injection molding machine applies human-computer interaction interface and touch screen on basis of windows operation system. It realizes real-time controlling in material rotate speed, injection quantity, infection time, injection temperature, sulfuring time and productivity. In PLC and PC controlling system, the machine is functionally clear and operationally easy.
4. Oil Hydraulic System
This machine applies proportional control valve to control oil pressure and flow.
5. Others
According to ergonomics, single color EVA foam injection molding machine is designed in low operation height. Apart from this, mould thickness adjusting is stepless to accommodate moulds in thickness of 100-260 mm. It uses a unique way to produce rubber material or EVA material.
Parameters of the One Color EVA Injection Moulding Machine:
Project
Unit
Specifications




Model


9102
9106
9108
Raw Material


EVA
EVA
EVA
Work Station Number (max)
station
2
6
8
Clamping Force
T
180
180
180
Mould-opening Stroke
mm
350
350
350
Max Mould Size
mm
290 × 550
290 × 550
290 × 550
Mould Height
mm
100-200
100-200
100-200
Screw Diameter
mm
¢60
¢60 × 2
¢60 × 2
Screw Speed
rpm
0-165
0-165
0-165
Injection Capacity (Max)
cm3/cc
930
930 × 2
930 × 2
Injection Pressure
kg/cm2
1080
1080
1080
Limit of Temperature
point
4
4
4
Barrel Heat Power
kW
6
6×2
6×2
Mould Heat Power
kW
25.6
76.8
102.4
Hydraulic Motor Power
kW
37/32
55/50
55/50
Total Power
kW
62/57
131/126
157/152
Oil Tank Size
kg/td>
800
1000
1000
Machine Size
mm
4680 × 4600 × 2875
8230 × 3800 × 2875
10650 × 4800 × 2875
Machine Weight
kg
11000
26000
33000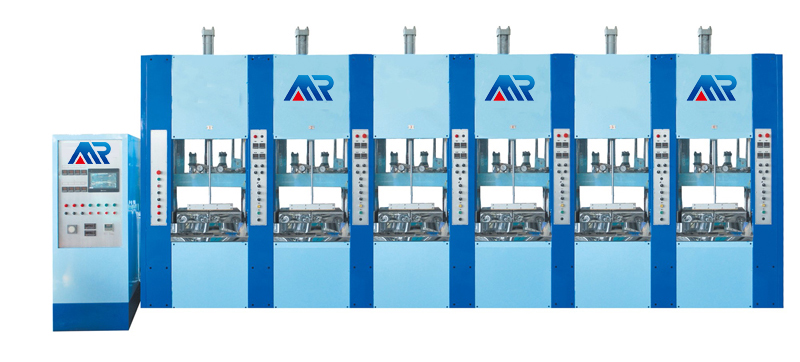 We are profesional manufacturer of all kinds of shoes machine, shoes mold for making shoe sole outsole, soles of slippers, straps, crystal, sandals .